Many refer to gaming PCs as energy-absorbing machines. However, the statement is only valid if the right hardware components are not used in the PC. If the investment is made in the right components, not only will you be saving money on your overall household energy usage, but you will also be getting a PC that delivers great performance.
So how does one build an energy-efficient gaming PC? If that's the question on your mind, then you are in the right spot. Here we will learn how you can build a gaming PC that is energy efficient and delivers exceptionally brisk performance. So without further ado, let's get started!
Essential Energy-Efficient Components For a Gaming PC
1. Power Supply Unit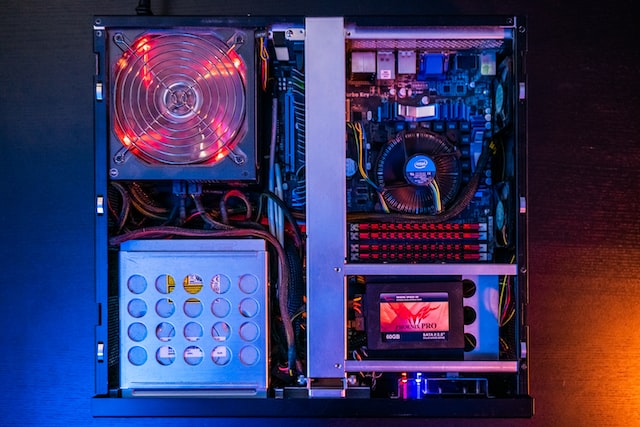 Investing in a high-end PSU will not only supply power to all other energy-efficient hardware but will also help cut down the overall energy usage of your gaming PC. PSU is rated with tiers like Gold, Platinum, Titanium, etc. The tiers tell you how efficient the power supply is under 10%, 20%, 50%, and 100% loads.
Investing in a high 80-plus rating is ideal and will deliver a steady, consistent flow of power while saving 80% of energy at a minimum. However, the better the rating of the PSU, the higher the price.
Our Recommendation: ASUS ROG Strix 850W Modular 80+ Gold PSU
The PSU we recommend might not be the cheapest, but we assure you it's worth the investment. The power supply has exclusive features: 0db Technology and Heatsinks. The 0db technology is handy when the PSU is below 40% TDP (we'll get into TDP later on). This produces 0db noise, and with fewer moving parts, the overall power than is being drawn is less.
Whereas, the heatsinks ensure that components in the power supply stay at a low temperature and have reduced noise. The ASUS ROG Strix also comes with a 10-year warranty, and the price of this PSU is £173.51.
2. CPU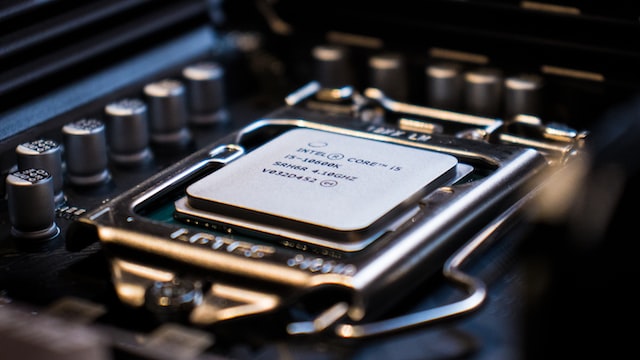 Choosing the right CPU is essential if you want an energy-efficient gaming PC. Finding the right one can be challenging since the power requirement of CPUs has increased over the past few years. You must ensure that the CPU has low TDP and wattage for an energy-efficient CPU.
The Thermal Design Power(TDP) is the power consumption under maximum theoretical load. For instance, an Intel Core i7-11700K has a TDP of 125W, whereas AMD Ryzen 7 5800X has a TDP of 105W. Lower TDP means less heat is produced. This means the AMD chip would require less cooling and consume less PSU power.
Our Recommendation: Intel Core i5-12600K
The Core i5-12600K is the CPU to buy if you want performance with efficiency. Though at this price range, AMD has much more to offer, they won't be saving you energy. The cores in i5-12600K will ensure that your system power when needed. There are ten cores (6-P cores and 4-E cores) along with 16 threads.
The base clock speed is 3.7GHz, whereas the boost clock speed is 4.9GHz. The CPU is ideally made for mid to high-end gaming and offers commendable streaming performance. The TDP of this CPU is 125W making it an ideal choice for an energy-efficient gaming PC.
3. Graphics Card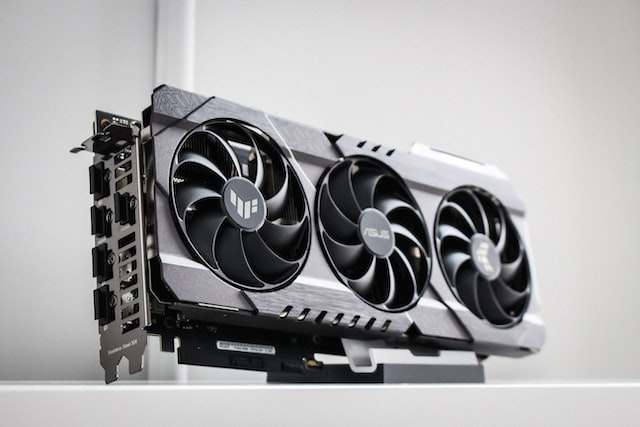 Graphics have a crucial role in gaming PCs, and getting the right components for graphics is vital if you want to stay energy-efficient. A GPU like RX 6600 XT or RTX 4090 would drain a lot of power even though they have internal cooling.
So what should you do to save energy? You can go with IGPU or APU if energy saving is your priority. An IGPU will not consume other power than the stated TDP of the CPU attached to it, making it more efficient than traditional GPUs.
Our Recommendation: AMD Ryzen 5 5600G
When choosing an IGPU, you can't go wrong with AMD'S Ryzen 5 5600G. The IGPU is ideal for energy saving and is better than many IGPUs available in the market. The IGPU will undoubtedly lower energy costs but will limit your gaming options to a certain extent.
With the AMD Ryzen 5 5600G, you can enjoy most games at 720p. Moreover, optimized 1080p games like GTA 5 online and Valorant can be enjoyed at decent frame rates. With this IGPU, you can get 60 FPS in GTA 5 online and expect three-digit frame rates in games like Valorant.
4. Cooling Options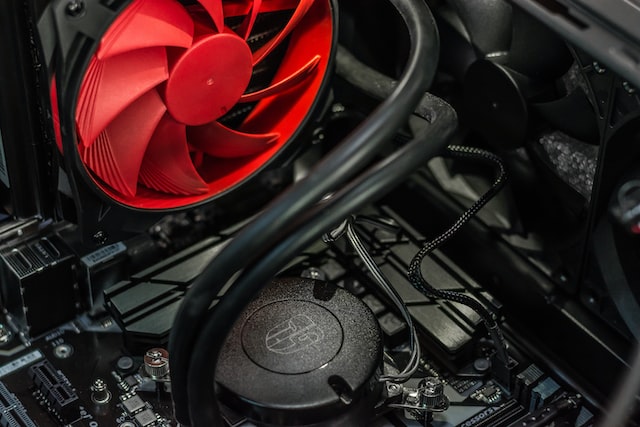 A cooling system completes your gaming PC, and having an efficient cooling option is a must. There are two types of cooling options: Air cooling and liquid cooling. Though liquid cooling is more effective and efficient than air cooling, it is also more expensive.
On the other hand, air cooling option isn't bad at all, especially if you want to save some cash. You will find loads of brands that offer efficient options when it comes to liquid cooling. Some famous brands include Corsair, NZXT, and Arctic Liquid.
Noctua is one of the best companies that delivers air cooling systems, and they are extremely careful with the noise rating and efficiency of the cooling system.
Our Recommendation For Liquid Cooling: Arctic Liquid Freezer II
If you are looking for liquid cooling that serves both worlds- performance and efficiency, then Arctic Liquid freezer is the one to go for. It doesn't matter whether you choose a 240 mm, 280 mm, or 420 mm cooler; Arctic will ensure that your processor stays cool and doesn't hit high wattages, saving you energy.
Our Recommendation For Air Cooling: Noctua NH-U12S Redux
If you are using an IGPU, then chances are that an air cooling system would work well for your system. One of the best air cooling systems you can get for your hardware components is Noctua NH-U12S redux.
The Noctua NH-U12S Redux is more streamlined than other air cooling systems and deals with the CPU without interfering with the heatsink or RGB attached to your RAM. With this air cooling system, you will also get a pre-applied thermal compound for easy installation.
Conclusion
Assembling your gaming PC with suitable energy-efficient components can be sustainable for you in the long run. However, ensure that you choose the components that are compatible with one another to get the best energy-saving combination.