A PSU is the powerhouse of your computer. It is responsible for delivering power to all the internal components, including CPU, GPU, RAM, and storage drives. It is necessary to choose a suitable power supply unit for your PC. We have come up with an option that everybody is going to love.
Corsair RM850x is one such power supply unit that is efficient and reliable and offers virtually silent operation. Plus, it comes with fully modular cables, so you can easily install the new Corsair RM850x. Let's explore 4 reasons to buy a Corsair RM850x power supply unit.
1. It's Efficient
Corsair RM850x is an 80-plus gold-certified PSU. 80-plus gold-certified PSU can provide up to 90% efficiency at 50% load. The Corsair RM850x is rated for 850 watts. With most PCs running between 300-400 watts, you are highly likely to achieve an efficiency of more than 90% with Corsair RM850x.
2. It's Virtually Silent
Another quality of a good power supply unit is quiet operation, even at high loads. Corsair RM850x is very smart in this aspect. It offers a zero rpm fan mode. In this mode, if the load is kept under 500 watts, the cooling fans are completely turned off. Thus, you get a 100% silent operation. Even at full load, the noise of cooling fans is kept to a minimum.
3. It Comes With Fully Modular Cables
Corsair RM850x comes with fully modular cables, so you can choose to connect only those your system needs. It helps to get rid of all the unnecessary cables in a non-modular PSU. Here is the list of all the cables that are provided with the Corsair RM850x:
ATX Cable 24-Pin (20+4)
2 EPS/ATX12V Cable 8-Pin (4+4)
3 PCIe Cable 8-Pin (6+2)
2 SATA Cable (3 SATA)
SATA Cable (4 SATA)
2 Peripheral Cable (4-Pin)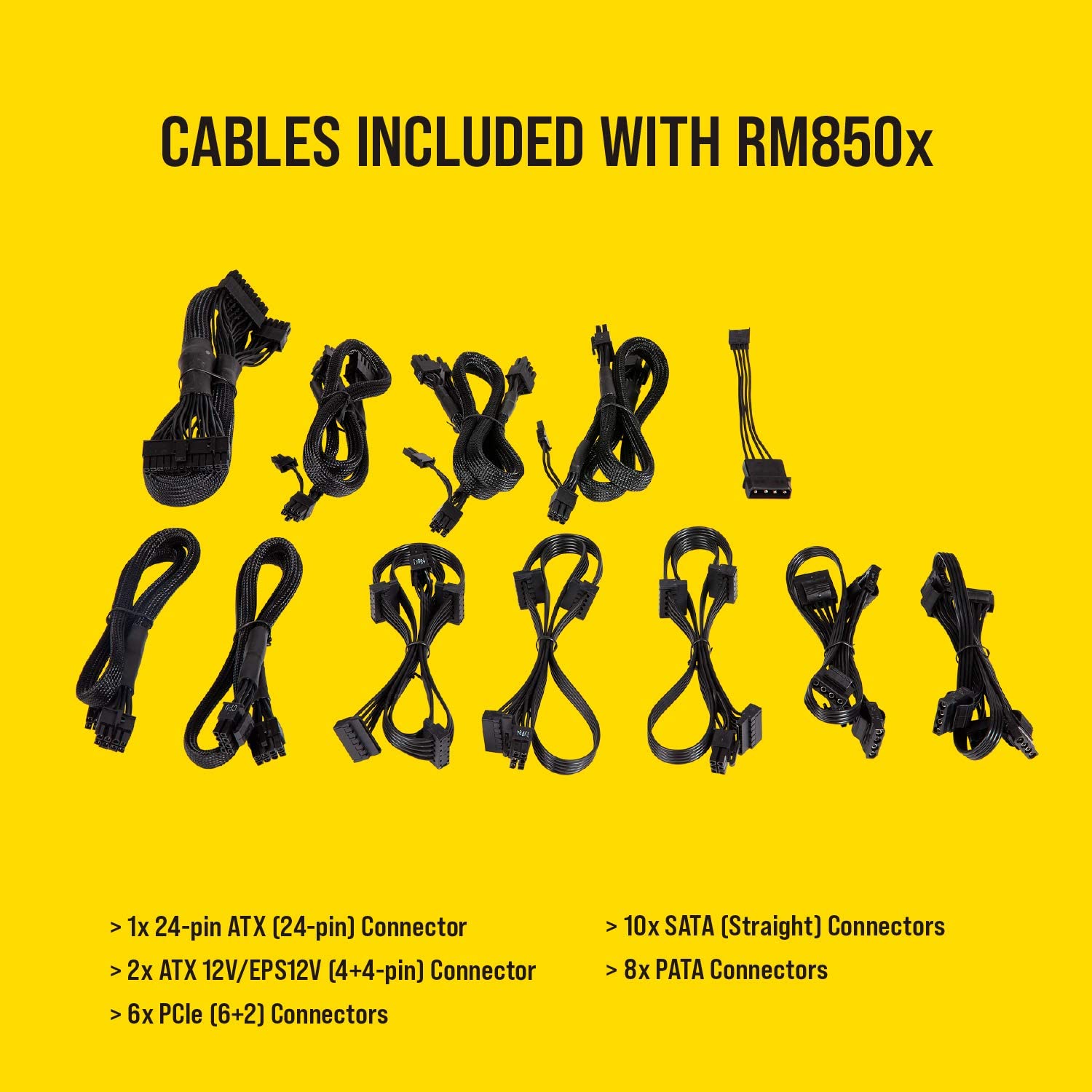 4. It's Reliable
Corsair RM850x is built from high-quality internal components. This ensures an unwavering power supply and reliable operation. It comes with 105 degree Celsius rated Japanese capacitors. Thus, Corsair RM850x will have a longer lifespan than most other power supplies.
Final Word; 4 Reasons to Buy Corsair RM850x Power Supply Unit
Corsair RM850x offers quieter operation while being reliable and efficient. The modular cabling ensures peace of mind by enabling a cleaner build. These are the major reasons why Corsair RM850x is the most-rated product on platforms like Amazon.
It is one product you can buy without a shadow of a doubt. Even for those who don't know much about computers, they can buy this PSU. The reason being its above-average power rating and satisfactory performance. We hope that you like this product.
Do let us know which power supply unit you are using. We would love to hear from you guys!